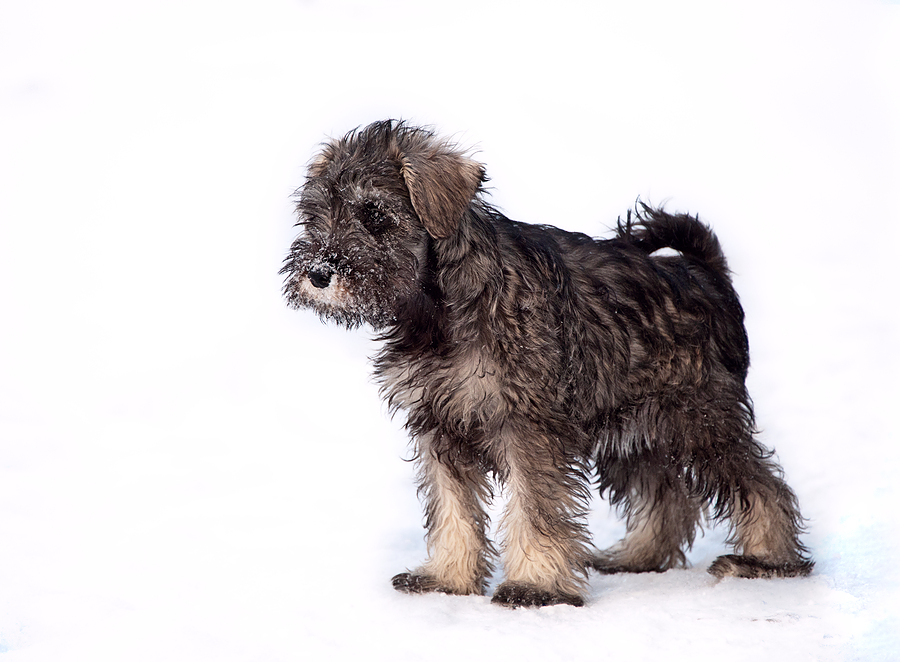 Miniature Schnauzer rescue work can be a rewarding activity, regardless of your prior experience level. Most organizations dedicated to miniature Schnauzer rescue work are all-volunteer and operate on a non-profit basis.
Many are funded entirely by donations.
While the task of working to save abused or neglected animals can often be overwhelming, it is a task that can provide numerous rewards.
Most of the miniature Schnauzers that make their way into a rescue organization have been abandoned, abused or they are unwanted.
There can be many different reasons why a Miniature Schnauzer would lose his or her home.
Many people assume that the dogs that make their way into a rescue organization are unhealthy and have behavior problems. Quite the opposite is often the case.
In reality, many of the dogs found in a rescue organization are really very healthy, although there may be some that are injured or sick. Dogs may come from puppy mills, the streets or from shelters. They may also come from owners who either will not or cannot care for them any longer. In almost all situations, these dogs have not enjoyed the security of a loving a caring and loving home.
The goal of a Miniature Schnauzer rescue organization is to provide these dogs with the opportunity to get healthy again if they are injured or sick and to find a home in a loving, safe and secure environment. Until they are able to find their 'forever' home, the goal is to locate a foster home that can provide them with loving home.
During this time they can be cared for and socialized until they can be adopted in a loving permanent home. Known for their intelligence, spiritedness and alertness, Miniature Schnauzers make wonderful pets, particularly for families with children.
It should always be kept in mind when you are considering adopting a dog from a Miniature Schnauzer rescue organization that these dogs typically find their way into a rescue center through absolutely no fault of their own.
They may have been in a neglectful or abusive situation. A prior owner may simply have decided that caring for them was too much responsibility. The owner may have experienced health problems or financial problems and could no longer care for them. Regardless of what the case might be, these spirited and intelligent little dogs deserve a loving, permanent home.
While it would be impossible to try to save all dogs, volunteering or donating to a Miniature Schnauzer rescue center can help you to make an important difference in the lives of many dogs. There are many different ways in which you can make a difference.
If you enjoy working one-on-one with dogs, volunteering at a Miniature Schnauzer rescue mission is a great way to make an important difference. You can also volunteer to act as a foster parent for dogs that need loving care until they are adopted. Other ways you can help include donating money, food and supplies to a local Miniature Schnauzer rescue center.
If you want to make a long-term difference, there is no better way to do so than to adopt a dog from a Miniature Schnauzer rescue center. Dogs of all ages are often available through rescue centers, including puppies as well as older dogs that are well-trained and are simply looking for an owner to share their lives with.
It should be kept in mind that in some cases you may need to be prepared to provide some training. Some dogs may never have been housebroken and although they may be an adult dog they will still need to patient and loving care while they are trained regarding even basic issues.
The most important task you will face when adopting a dog from a Miniature Schnauzer rescue center is to develop a bond with your new companion. Once your mini Schnauzer understands that he can trust you, which may take some time, the training will usually progress at a much faster rate.
Some dogs coming from a rescue center may also experience behavioral issues that will need to be worked through. This is all part of the training process when adopting a dog from a rescue center.
You may expect your dog to possibly be timid or shy, which might mean that training will progress slower. Remaining patient, loving and kind is the best way to work through these issues as you develop a strong bond. While adopting a dog from a Miniature Schnauzer rescue center can be somewhat of a challenge, it can also be immensely rewarding.
For more information we recommend the Miniature Schnauzer Insider's Guide ebook and audio.